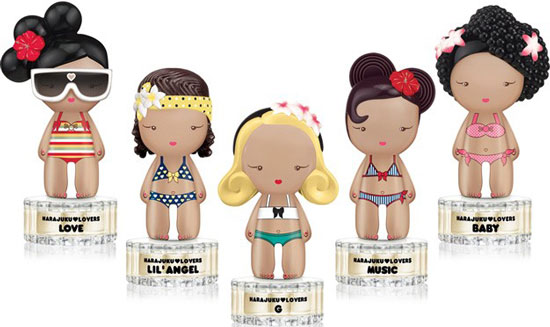 Guen Stefani knows how to appeal to the youth with her super cute and lovely smelling perfume! Harajuku Lovers is the name of these doll topped perfumes. They come in a range of scents depending on the theme. Winter, summer, and school girl, the original theme, all have their own scent that tend to stay similar throughout the different themes. There are even some exclusive scents and themes of "G" Gwen's doll such as the Santa Clause and mermaid theme.
There are five different girls in the group.
Love smells like peaches, jasmine, nectarines, ylang ylang flower, vanilla orchich, musky and wody too.
Lil' Angel has a citrus fragrance, pinapple, candied ciolent and lollipop accord.
G has an oriental, fruity smell with scents of coconut, jasmine and cotton wood.
Music has a fruity scent it also smells like pears, sweet pea, and honeysuckle.
Baby has a fresh clean and soft powdery floral fragrance with notes of white rose, orange flower and white musk.
The prices range from $13-$25, and you can always find them in TJMaxx and Marshall's for discounted prices.
P.S. Weird video...